Lobster Season
Lobster season begins August 1 and ends March 31.  This is always a busy time on Green Turtle Cay. People reserve houses, golf carts, and boats a year ahead of time. If you've not yet made your plans to stay on Green Turtle Cay for opening day of the season, hurry up and do so.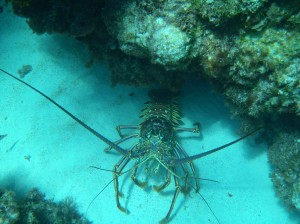 Island Roots Heritage Festival – May 2020
 The Island Roots Heritage Festival returns to Green Turtle Cay in May 2020.  A fun filled weekend celebrating Abaco and learning more about her history.
Cheeseburger in Paradise – July 2020
The Green Turtle Cay community's Cheeseburger in Paradise party keeps growing. The July 2, 2019 party on Fiddle Cay had crowds surpassed all others, and a fun time was had by all.  VIP passes for $250 which allow access to new VIP area and benefit the Green Turtle Cay Foundation. Make your plans to be here for this fantastic family friendly event and enjoy free cheeseburgers, margaritas, and more. Also, don't forget to pick up some merchandise as all proceeds from the Party benefit the Green Turtle Cay Community Foundation, including Amy Roberts Primary School on Green Turtle Cay and the Green Turtle Cay Volunteer Fire Co. Make your plans for July 2020 so you too can party with a purpose.
Birdwatching on Green Turtle Cay
In the October 1, 2012 edition of The Abaconian it was reported that U. S. bird-watching tours will be heading to Abaco soon.  A visit to Green Turtle Cay during the investigative visit turned up many shore bird species, including Red Knots, Black-bellied Wilson's and Piping Plovers and Semi-plamated Sandpipers as well as Oyster Catchers.
Green Turtle Cay on the Today Show
http://video.today.msnbc.msn.com/today/46327281#46327281
Click on the above link, or if that doesn't work, copy and paste it into your internet explorer and see the Today Show's tour of Green Turtle Cay.
Green Turtle Cay Restaurants Featured in Southern Boating
The May 2016 Southern Boating magazine listed Ten Delightful Bahamas Restaurants. Included in the list were our very own Blue Bee Bar, home of the Goombay Smash, and the Green Turtle Club. Both minutes away from Long Bay House. Come on over and enjoy these island treats.
Abaco and Green Turtle Cay featured in the Miami Herald, October 23, 2011
In an article matching personality types to different Bahamian islands, the Herald matched Abaco as follows. "If your favorite fabric is neoprene and your favorite bubbly is the kind that you breathe out of your SCUBA regulator…" then Abaco, with the fourth longest barrier reef in the world is for you.  "On Green Turtle Cay is Brendal's Dive Center, and he also caters to snorkelers.  Afterwards, treat yourself to a Goombay Smash in New Plymouth at funky Miss Emily's Blue Bee Bar, where the potent concoction was invented. "  So grab your snorkel, your dive skin and head over to Green Turtle Cay.